"I'm going to do everything I want to do, and I'm going to find a way to do it. I have been the pioneer to make it so that people can do so in the future." – Ulla Kulju
On March 26, 2002, the life of Ulla Kulju changed for good. After an ill-fated jump with her snowboard, the then 15-year old girl broke two vertebrae and got paralyzed from the waist down. Yet, as the Finnish saying goes, her injury didn't affect her speed – in fact, it did the opposite. It drove Ulla to go further, try new things, and find solutions to problems in her professional and personal life.
19 years later even a dozen of titles are not enough to introduce her and describe what she has accomplished. Ulla is an engineer and a sports champion, but mostly she is an inventor, constantly coming up with new ideas. Thanks to her favorite mobile CAD tool, Shapr3D, she can ideate and design anywhere from the paddock to the couch.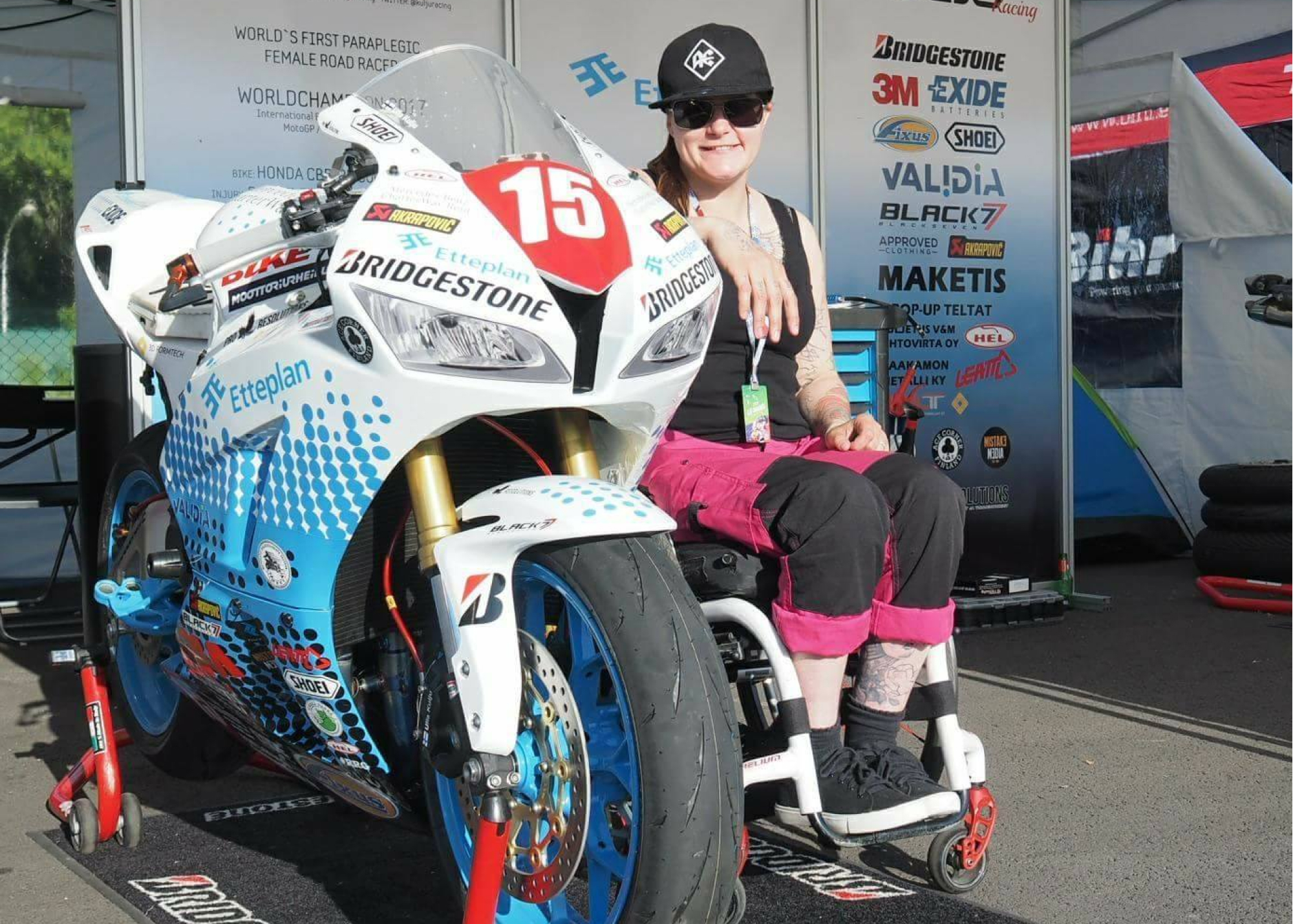 Jill of all trades, master of all
Ulla is easily the most versatile and inspiring person you can imagine. As a kid, she wanted to become a fighter pilot, but after her spinal injury, she needed to adjust her dreams. Instead of flying planes, she decided to learn how to design and build them. Driven by her life-long urge for speed and manyfold interest in engineering, she didn't stop at one degree and at one field. Besides airplane engineering, today she is also certified in boat manufacturing and design engineering, motorsport engineering, information technology, and the list goes on.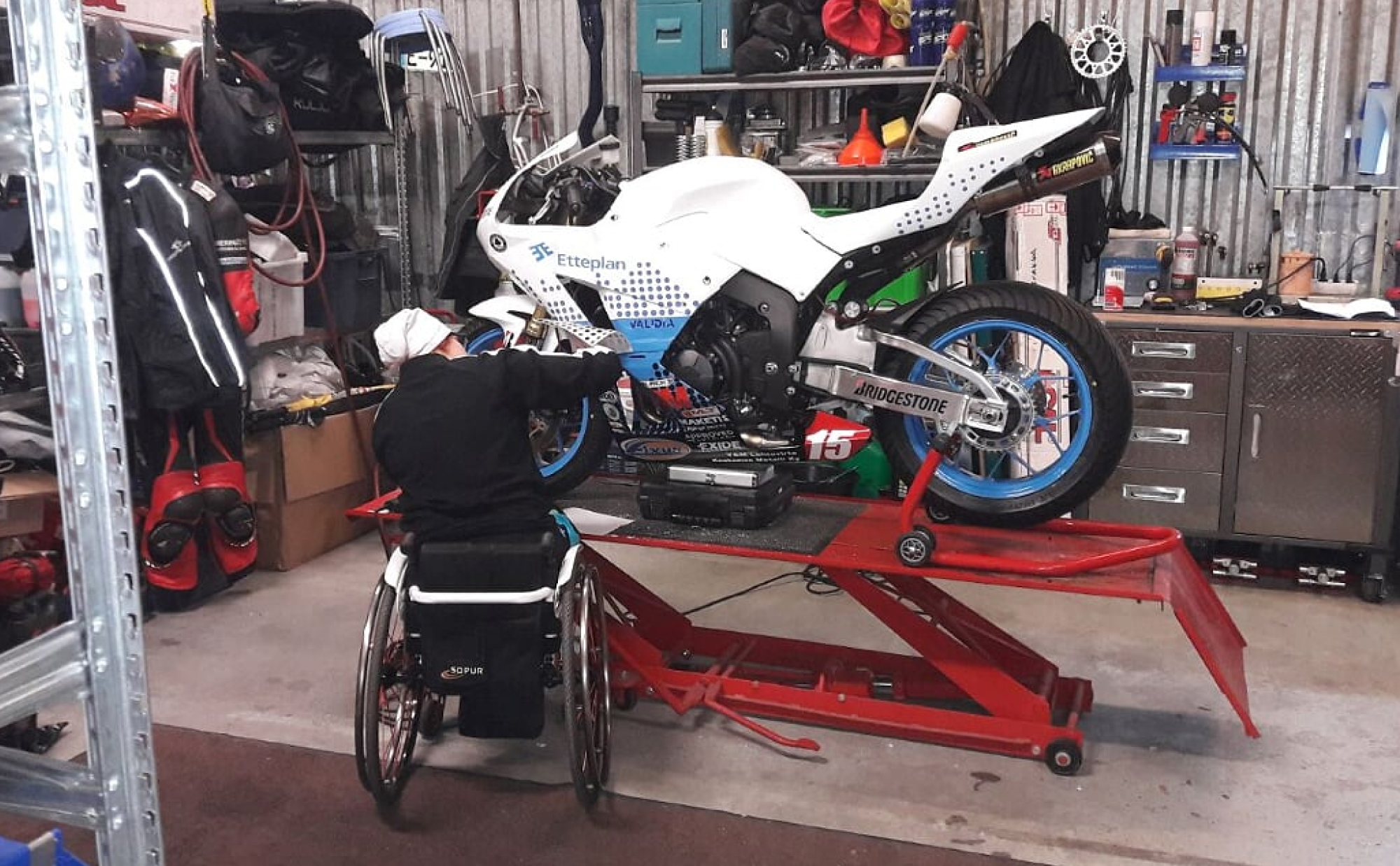 Ulla works as a Senior Design Engineer at Etteplan, a global engineering company in Finland, where she designs warship control bridges, oil recovery machines, control panels for surgery halls, armored vehicles for the army, and more. But as a true innovator and problem-solver, she keeps on designing after she gets home.
In her free time, she works on her pioneering solutions in adaptive sports gear, home gadgets, or even toys for her kids. And that's where Shapr3D comes into the picture: being able to concept and prototype off-desk opened up whole new possibilities for her and her unique creations. After her husband had seen an ad online, Ulla ordered herself an iPad Pro and downloaded Shapr3D right away.
"I had been waiting for something like Shapr3D to come out for years! Now I can do my designs on my iPad Pro wherever I want. This was a huge deal for me! I do many of my designs at home and in my garage or somewhere else than in my office. This freedom has given me the possibility to do my designs on the go and it's just amazing."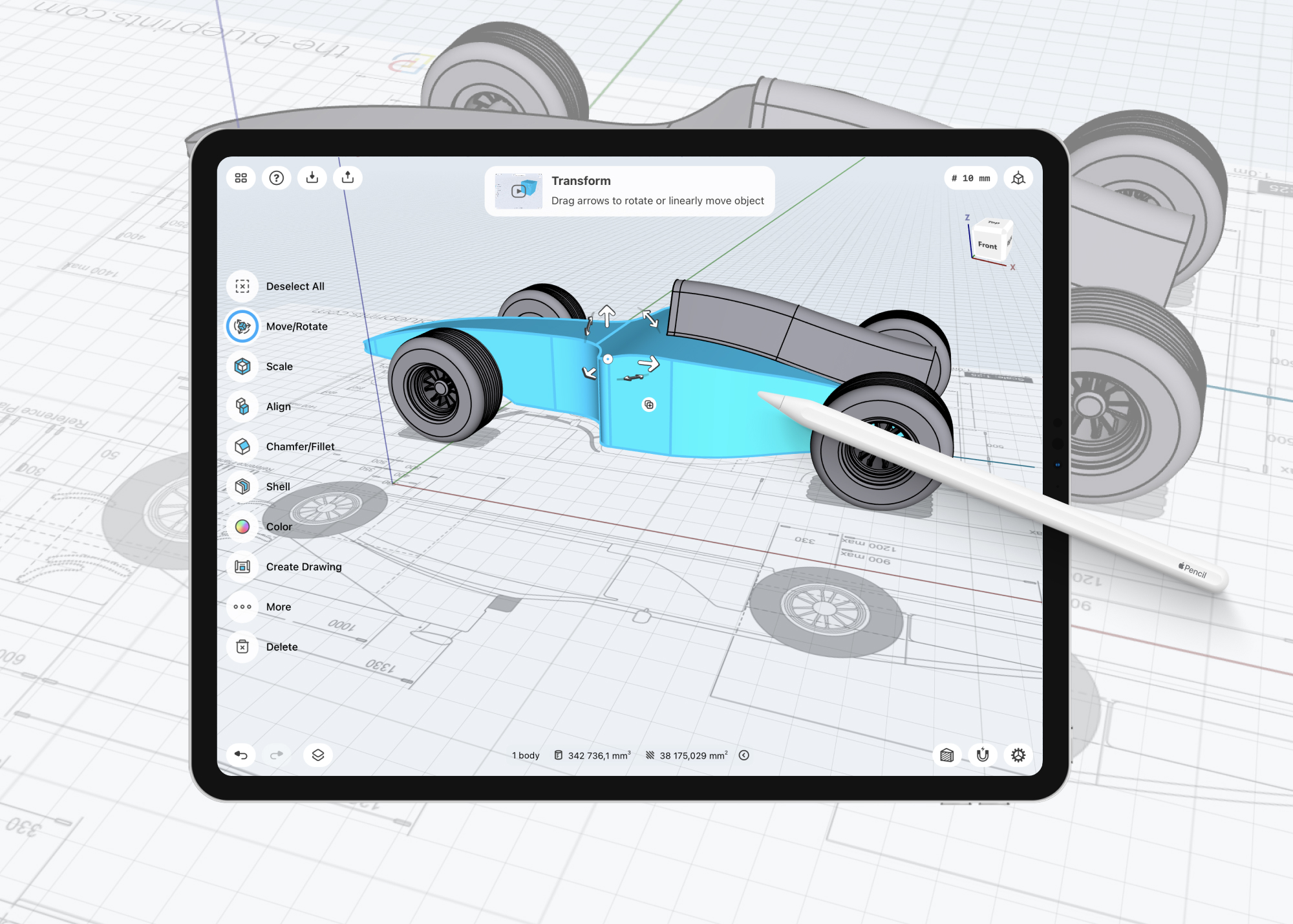 Ulla's interests and achievements don't stop at her being the Swiss army knife of engineering. She has never been the one that just sits by the side lane – she wanted to play an active part of the world she was building. Beating the odds, she tried and succeeded in many sports from skiing to sailing, from paragliding to motor racing, paving the way for parasport innovations.
"This is the thing that drives me: I get to solve the problems I'm facing and I get to make the path for others that are coming because I don't think that I'm the only one who wants to do this kind of stuff. I have all the sports you want to try. Just say the word and we'll figure it out."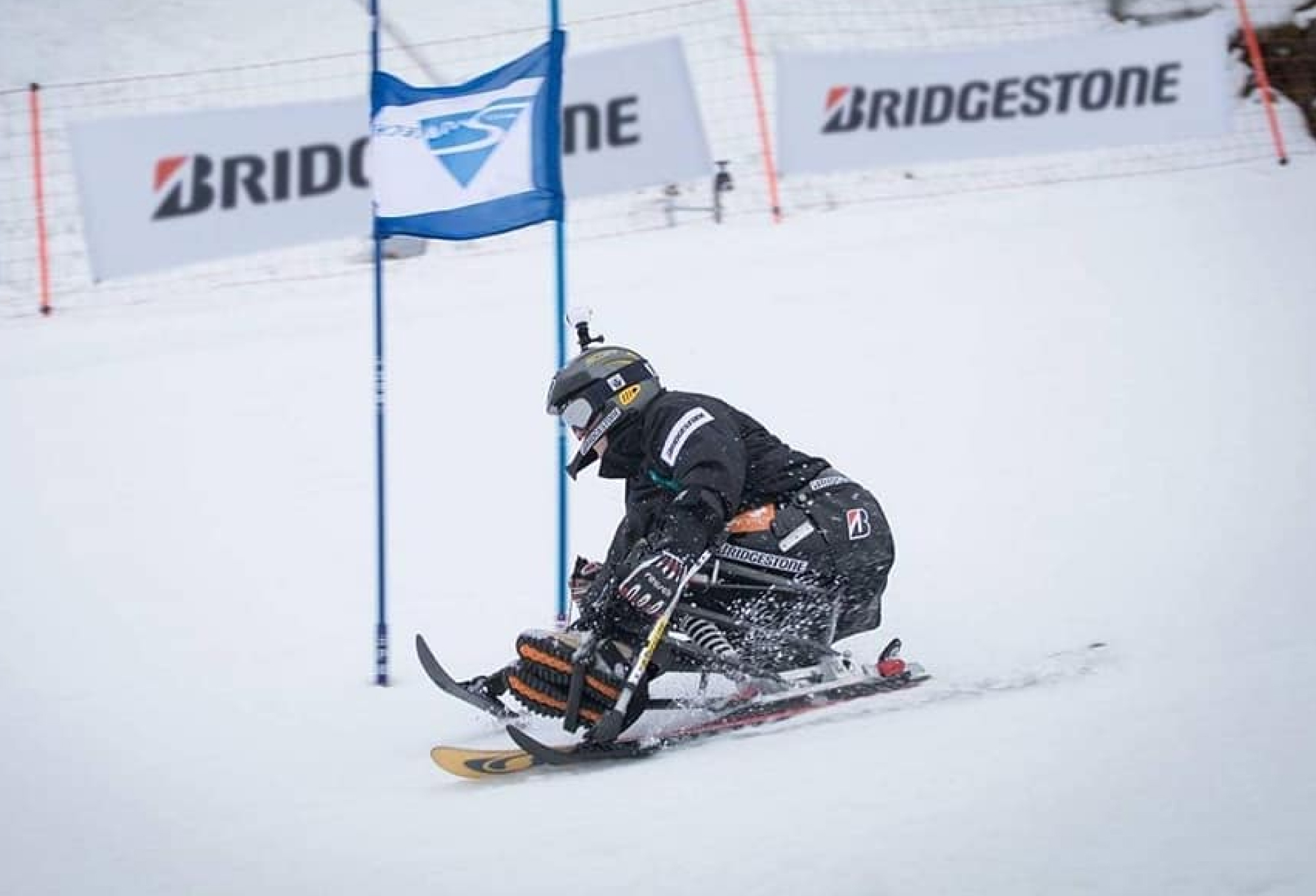 Today Ulla holds the impressive titles of the first paraplegic female sit-skier in the Finnish disabled alpine ski team and the first ever paraplegic female road racer in the world. Yet, she still defines herself as an engineer and an inventor first who identifies a problem and then works towards solving it.
"With motorcycling, I was the first one here in Finland who was disabled and wanted to race with solo bikes, so I made all the studies of safety and procedures I needed to do before I could go racing."
From the drawing board to the racing tracks at Le Mans
Starting with being a horse jockey before her accident, Ulla did a full spectrum of sports, but her heart has always raced for motorsports the most. To make her distant dream a reality, in 2014, during a coffee break at work, she decided to build herself a street bike, adapted to her physical condition.
"I bought myself a 1993 Honda CBR-F 600cc bike and designed and fabricated the parts myself to adapt the bike with an electrically operated 'landing gear' so that I could stop the bike without falling over."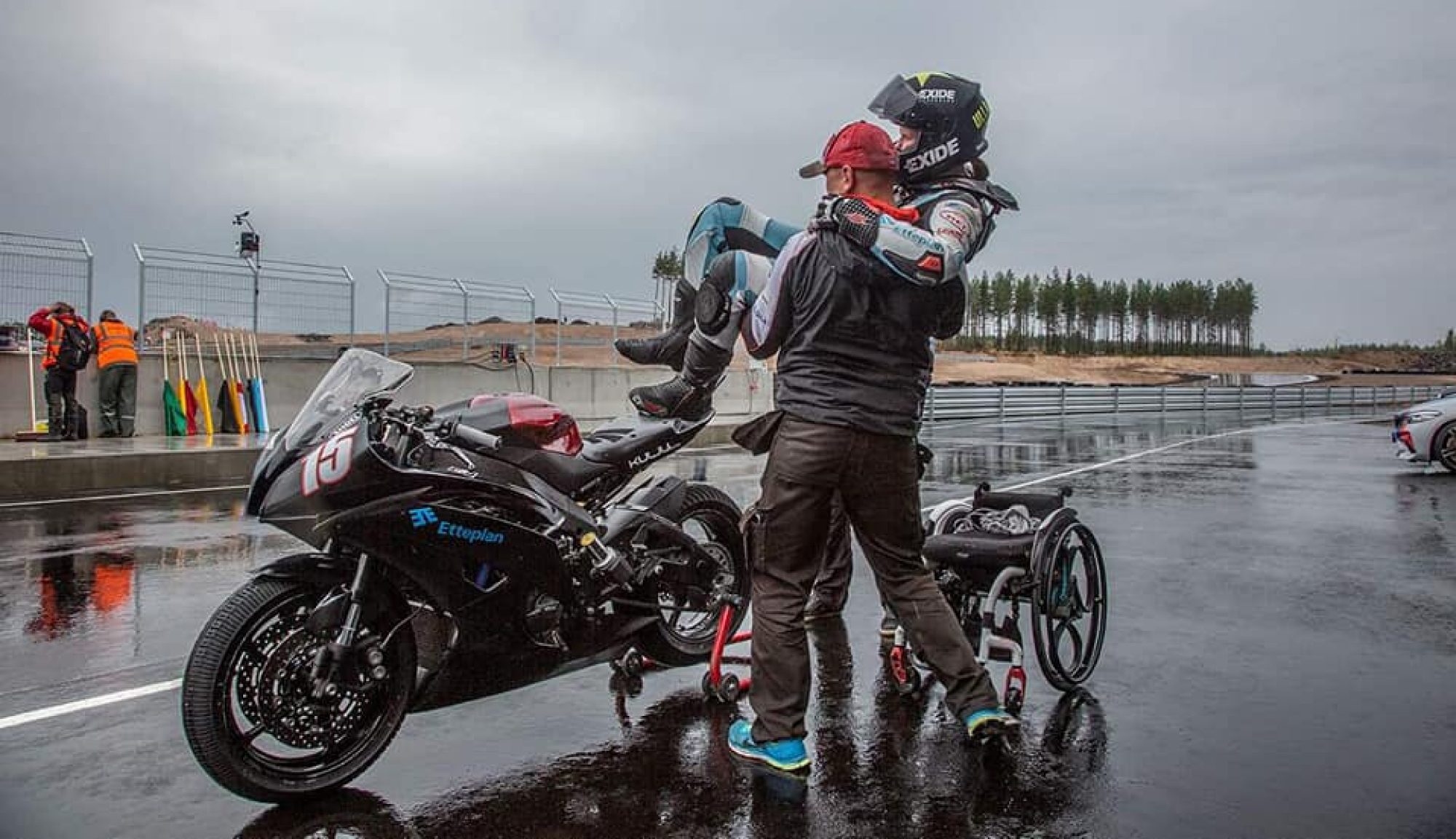 The bike got approved for road use the next year, and then someone asked her if she ever thought about racing with it. Although it was not in her original plans, that discussion made her wonder, so she got a racing license and entered the Vintage Road Racing as the first paraplegic person in Finland to ride a two-wheeled motorcycle in a racing circuit.
After the race, the events accelerated for Ulla. She got invited to a track day at Silverstone, UK, by Talan Skeels-Piggins, the world's first paralyzed male motorcycle racer. She also kept on improving and adapting her bike and founded her own racing team, Kulju Racing, which took her as far as the iconic Le Mans race tracks in France. In May 2017, she entered the paraplegic 600cc men's series and came 6th as the only woman.
"We, 32 disabled racers, have done it. We have reached the top of the world, which so many of us could never dream of achieving. We showed the world that nothing, even our disabilities, can hold us down."
Pioneering in custom vehicle parts and adaptive sports gear
To stay on track, Ulla continues to make custom designs for street and racing bikes and manufactures them with her own 3D printer, using ABS plastic. She does all the design work with the intuitive tools of Shapr3D because the parts she works on require as much flexibility from the workflow as possible.
As these are one-of-a-kind creations, a lot of testing and revising is needed before the final product can come to life. Ulla always starts with 3D scanning the parts she wants to customize or recreate, after which she can simply import the file in Shapr3D where she works her magic. Once she is done with the prototype, she 3D prints the item and fine-tunes the details until she is happy with the result.
"Iterating is much easier because you can do it on the go. You can make small adjustments and go back to the printer instead of having to go to the garage and take the measurements, then come back home, sit at the computer, do the design… With Shapr3D, I can have the part in a few hours after I started designing it. It works like a charm."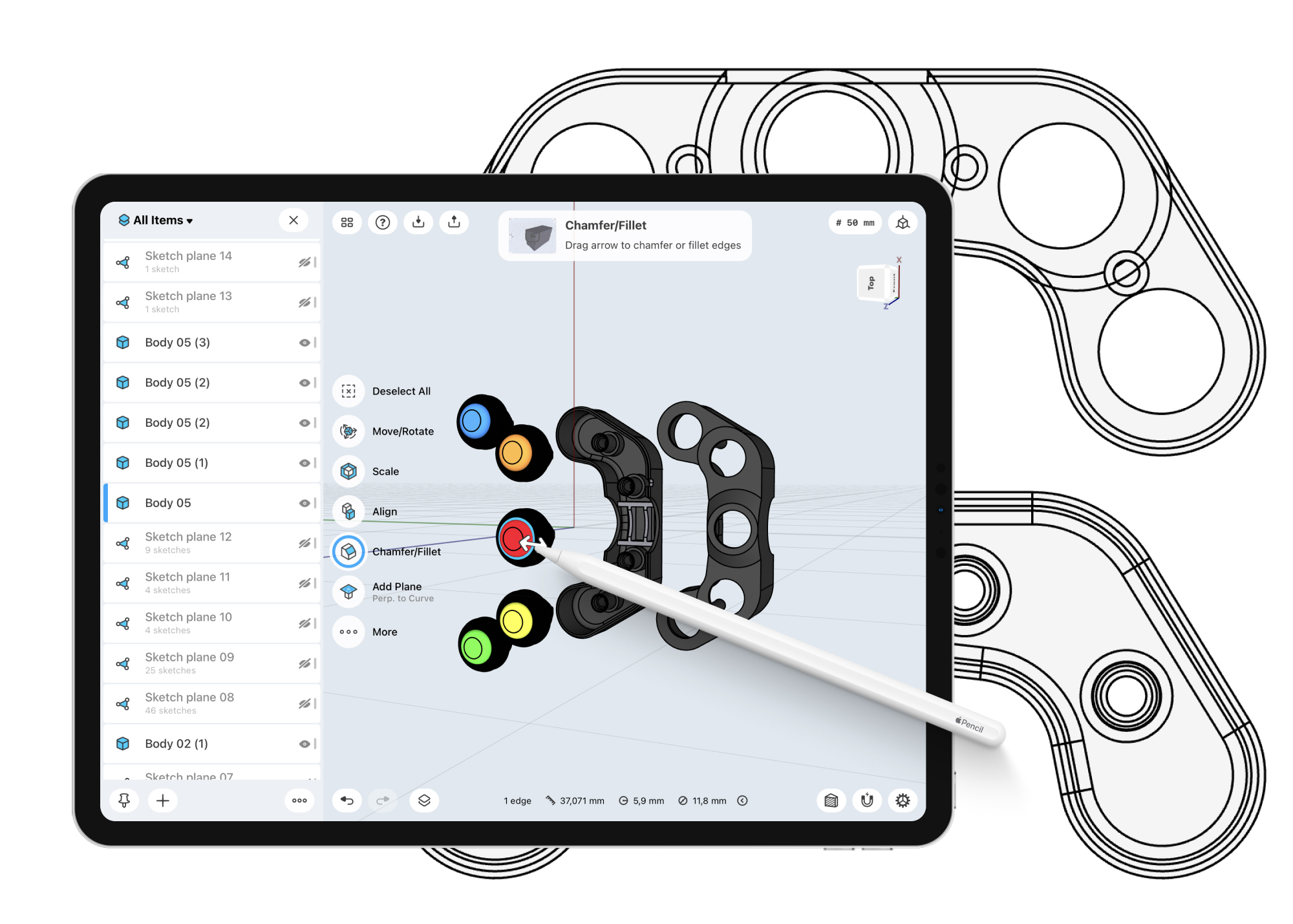 Every time Ulla cannot find a part or needs some special gear, she grabs her iPad and makes it for herself, be it a button setup for the bike, a pit lane warmer, a WET setup, crash pads, or her unique magnetic footpegs. Since she has no use of her legs, she needed something to keep them in place while racing – something removable, safe, cheap to replace, and universal for all of her bikes. So the need was there, the challenges were there, she just needed to come up with the solution. After experimenting with different variations and prototypes, she settled with the simple yet very effective magnetic version that can work with the Vertex of any bike.
Although she creates her special equipment to make her life easier, Ulla pays attention to making the pieces universally usable so that other disabled racers can also benefit from them. Her company is a side project and she isn't planning on launching her own product line, but she is happy to help others regain their freedom and mobility, so she can be contacted for requests on her social channels.
Home gadgets, kids' toys, and more
As challenges can come up in all areas of life, Ulla's creations cover much more than just custom sports gear. The design process is the same for each of her items: a problem comes up and a solution is needed. And Ulla is always ready with a solution. Whenever something is missing from her household or if she needs a special aid and it's either too expensive to buy or is not available on the market, she gets down to designing it on her iPad, using Shapr3D.
Thinking ahead for the time when her kids will move out and she won't have help grabbing things from the highest shelf, she designed a hook to get her bags and heels from the top of the wardrobe. The same happens when her children lose or break a part of a toy that cannot be glued back on or bought separately.
"I have two kids and they have a lot of toys and the toys break easily or you lose some parts you need. So then my kids come to me, asking 'Mom, can you design this part I'm missing?' or 'It's broken, can we fix it?' Then I take my Shapr3D out and take measurements and design it and then print it."
But it's not just about replacement parts. Her children are quite inventive when it comes to new toys, often requesting something based on an image on their phone, asking for it to be created by Ulla. Sometimes it's a battery lid for his son's RC car controller and sometimes a dollhouse lamp for her daughter. These are small things, but they make a big difference in Ulla's life – not to mention your mom designing your toys is quite cool, right?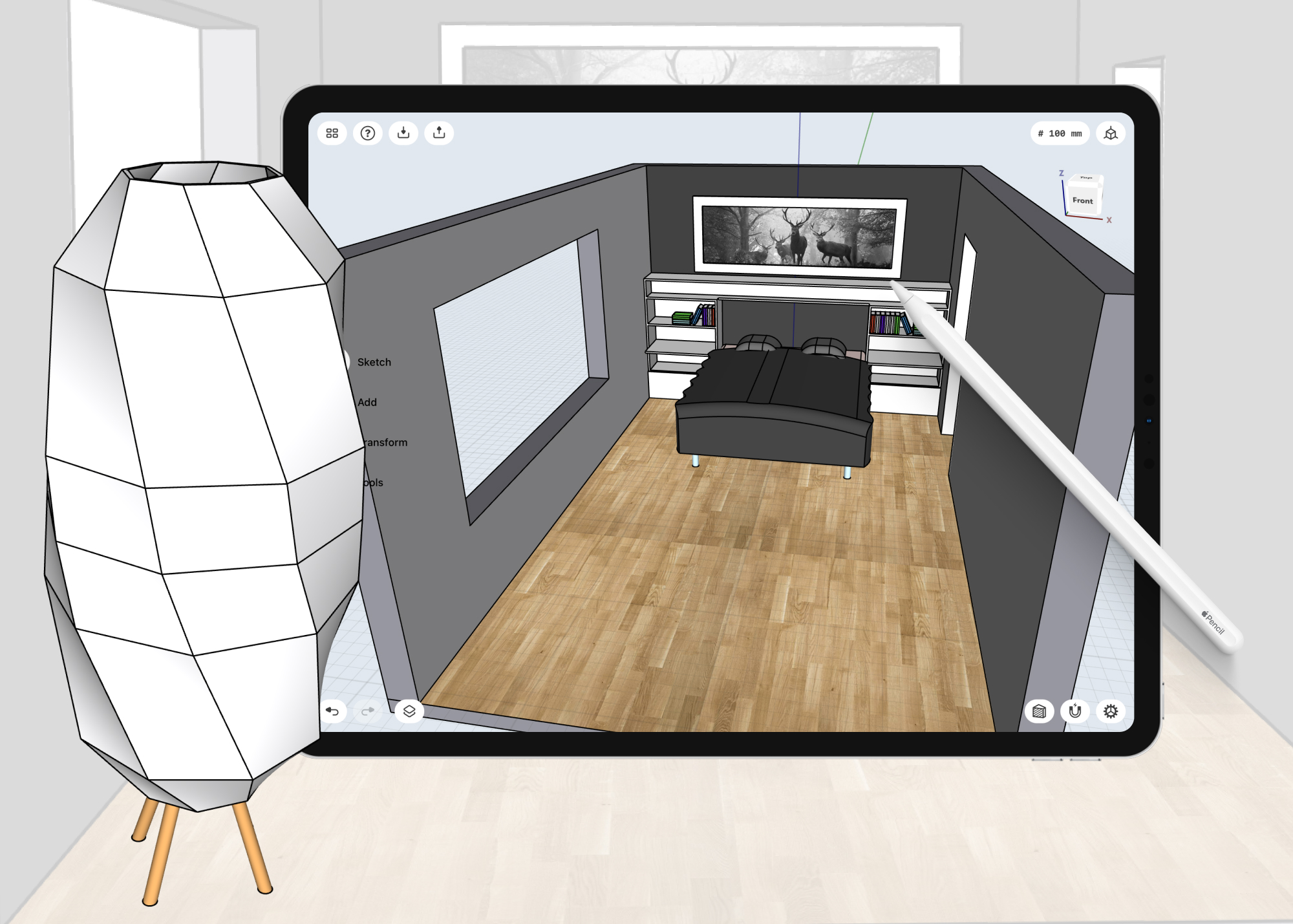 And there's no end to Ulla's creativity when it comes to setting new goals and venturing further and further in the sports sphere. Her most recent dream is getting back to horse riding, where, of course, she aims to do the fastest gait, gallop – which is not currently available for people with disabilities. To change the status quo yet again, she is now working on a prototype of a saddle that she could use to be a jockey again.
"I have always believed that if you dare to dream big, work hard, and be persistent, anything is possible. Disabled or not. I will continue to inspire and motivate people to achieve something beyond their dreams."
We have no doubt that she will remount and overcome her limits once again, and we are happy to share her story. At Shapr3D, we are firm believers that changing the status quo is very much possible.
See Ulla's incredible life in pictures here or follow her story on Facebook and Instagram.