"It's not that Shapr3D was the most important tool. Shapr3D has been the only tool that we've been using to create this project. We did everything on the iPad, even our logo." – Abel "Willy" Gómez-Morón Santos
The Incas, an ancient Peruvian civilization that flourished between c. 1400 and 1533 CE, were probably some of the most innovative architects in history. They built their stunning structures with dirt and rocks, creating eternal masterpieces like Machu Picchu. Fast forward to today and meet Pircanato, a family-run company that aims to reincarnate this Peruvian legacy with their award-winning design concept, Plastidobe.
This enterprising father-son duo is dedicated to creating a future-forward construction system that can provide suitable housing for people in rural regions of Peru. To complete this monumental task, they first needed a flexible, yet capable CAD tool. That's how they found Shapr3D, which quickly became their go-to 3D modeling software for the project.
Pircanato created their design concept on iPad
Addressing a long-neglected social issue
Architect Abel "Willy" Gómez-Morón Santos and his son, Harry Gómez-Morón Castro, a student at Parsons School of Design, first came up with the idea of Plastidobe after the rainy season devastated Peru in 2016. A series of floods left 700,000 people homeless by the coast, while 600 people whose houses were not properly insulated died in the mountain regions due to the extreme cold.
"We live in a country that has 28 of the 32 microclimates in the world and is also located in the Ring of Fire' where 90% of earthquakes occur. Our design had to take these specific challenges into account." – Harry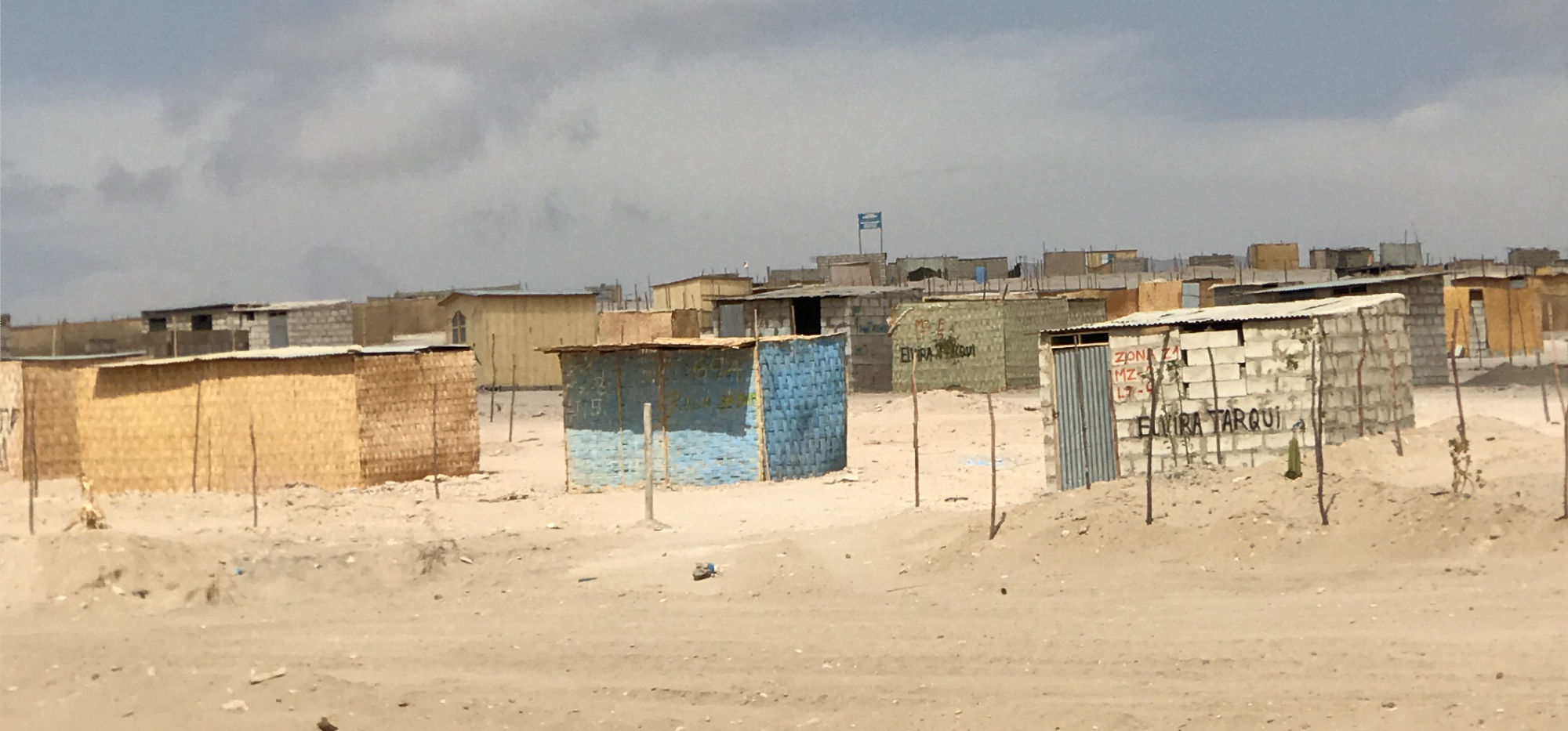 The current rural housing near the Peruvian city of Tacna
Although many entities have tried to connect the vulnerable population of Peru's remote regions with proper housing, none of them could address the problem at the speed and scale it demanded. The construction concept Pircanato came up with is the first to propose a real solution that is not only feasible and fast but also environmentally friendly.
"As designers, we have a moral responsibility to clean up planet Earth and inspire the current generation to carry out projects that go beyond reducing their environmental impacts." – Harry
Building on traditions with sustainability in mind
To start, they needed to find a material that was affordable, widely available, and resistant yet lightweight. The latter was important because some of the mountain areas are 5,000 meters above sea level, so questions of transportation and accessibility also needed to be taken into account. Sounds easy, right?
Looking ahead, Harry and Willy wanted their concept to be ecological. They created a unique, modular block system with recycled plastic that can be filled with dirt and then easily lego'd together. This way, Plastidobe walls could resist earthquakes, keep the houses well-insulated and waterproof, and tackle the global problem of plastic – a winning concept that earned Pircanato the A' Design Award in the Building Materials and Construction Components Design category in 2017.
The Plastidobe blocks are easy to manufacture, transport, and assemble by anyone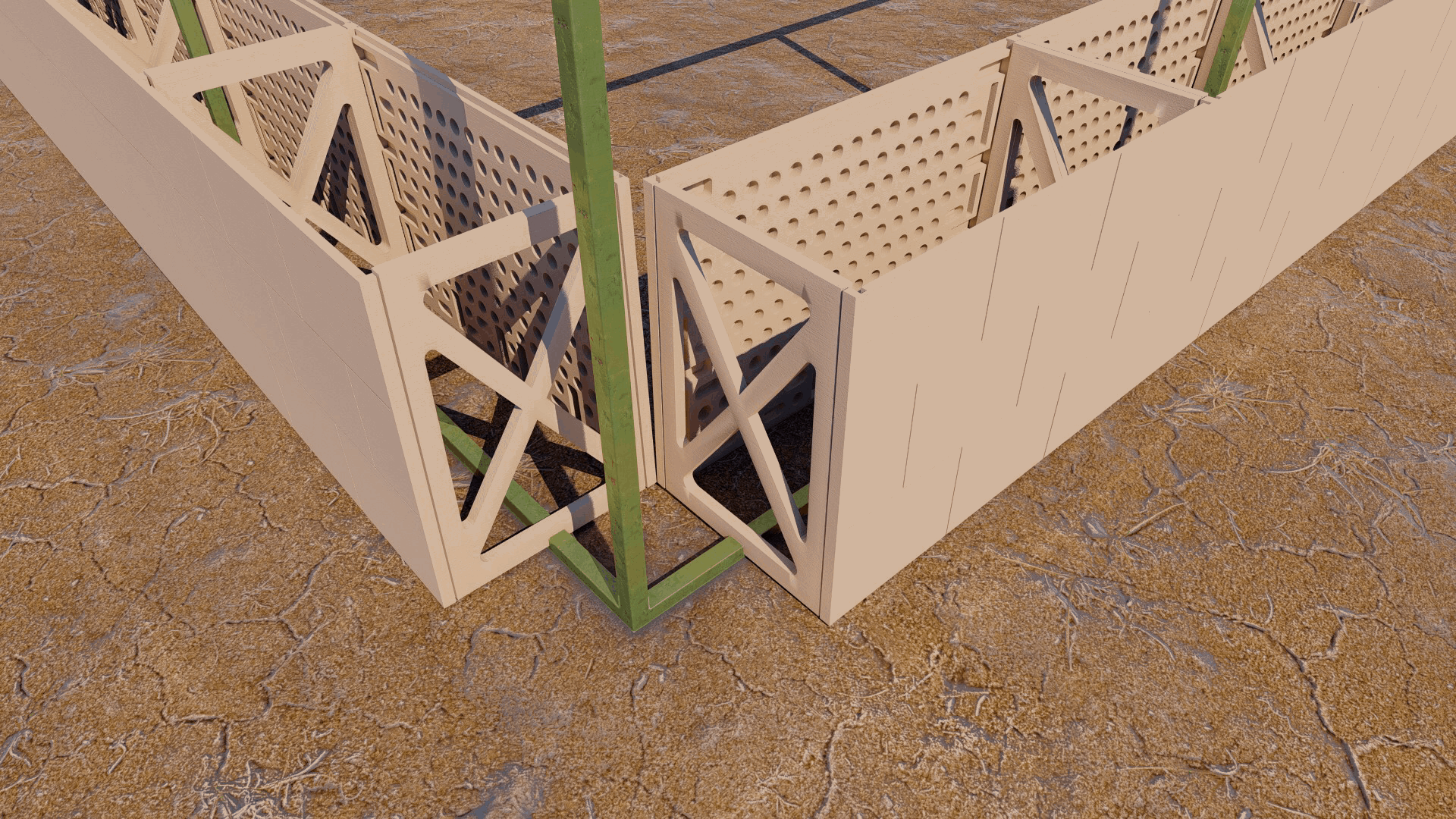 Once assembled, the modular block system gets filled with dirt
"Plastic is a wonderful material if you use it properly. It lasts for 4,000 years and we have it in abundance. If it were not for initiatives like Plastidobe, it would be contaminating our sea and land." – Willy
Besides coming up with a sustainable and accessible solution, they also wanted to create something that stayed true to Peruvian heritage. And for that, they looked back to the Incas, building on their design, using trapezoidal shapes, and insulating with dirt.
Putting the concept to the test, fast
The concept was in place, the award was there, so what comes next? It was time to create prototypes from the concept. As the COVID-19 pandemic and subsequent lockdowns cut Willy off from his other work projects and prevented Harry from going back to university, the father and son found themselves home-bound, ready to create homes for others.
"Shelter is the basis of society. It is a point from which to start, and which to return to every day. A house allows you to exist, and that is why, inspired by our architectural heritage, we decided to reinvent it." – Harry

Once put in place, Plastidobe houses will mean a significant improvement in the rural areas of Peru
As design professionals, both of them had previous experience with CAD. For Harry, traditional CAD tools create a distance between the designer and their work. He found the constant mouse clicking and external input devices bulky and inconvenient. He wanted to create art and find beauty in the process. The intuitive tools and direct modeling experience of Shapr3D allowed for more flexibility and a way faster workflow.
"I hate CAD, but I'm fascinated by Shapr3D. It's like pen and paper, but also it's like clean hands. I love working this way." – Harry
Using Shapr3D, they could make quick changes, iterate prototypes, and see immediately if something was going to work or not. Considering the urgency of the housing problem they aimed to solve, this immediacy was key. They also needed mathematical precision to figure out how to perfectly connect the blocks, and how trapezoidal shapes would best resist seismic movements. Being able to sit down at a desktop was not always a given, especially when collaborating with CNC manufacturers.
"It's just amazing how easy, fast, and frictionless the design process became with Shapr3D. And then there's the agility. The ability to collaborate and work together without the time-consuming process of working with traditional CAD software." – Harry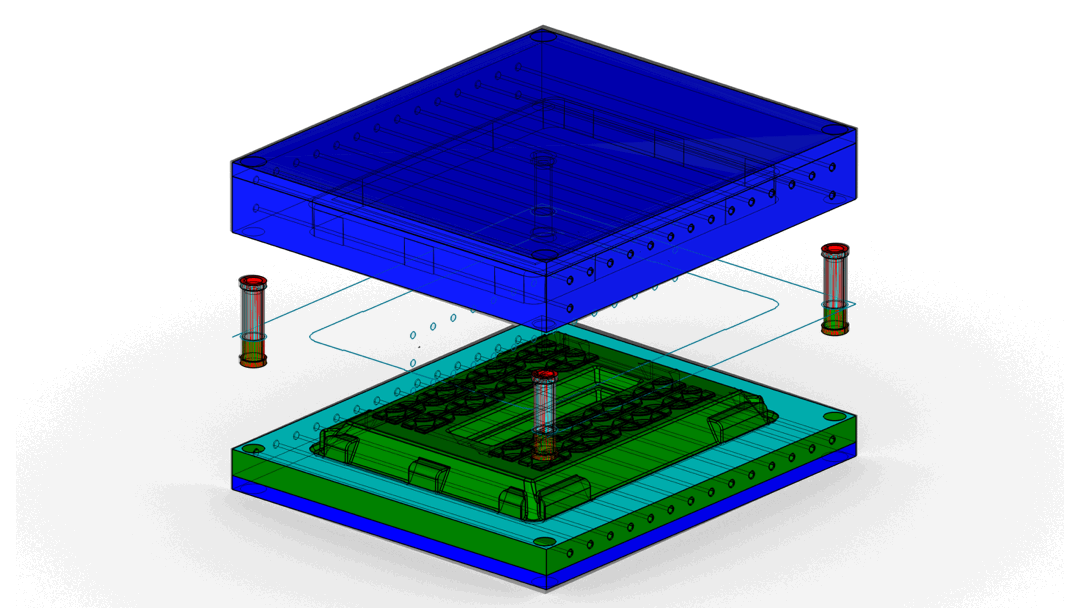 The precise manufacturing of the structural plaques was key

Adding mindfulness to the workflow
The flexibility Shapr3D offers also left room for innovation from the construction perspective. Willy and Harry wanted to eliminate all the dangerous details – such as heavy parts and pointy edges – that could cause harm to construction workers, an aspect that is not often considered during design processes. Especially because they aimed for their product to be easily built by anyone.
"And there's even a component of fun here. When you're building something like that, it's like a Lego. The family that inhabits the house can also participate in the building, putting the pieces together." – Willy
They needed everything to be easy and safe to transport and assemble, even in the most remote parts of Peru. It is this mindfulness and humane thinking that makes the Plastidobe project truly human-centered.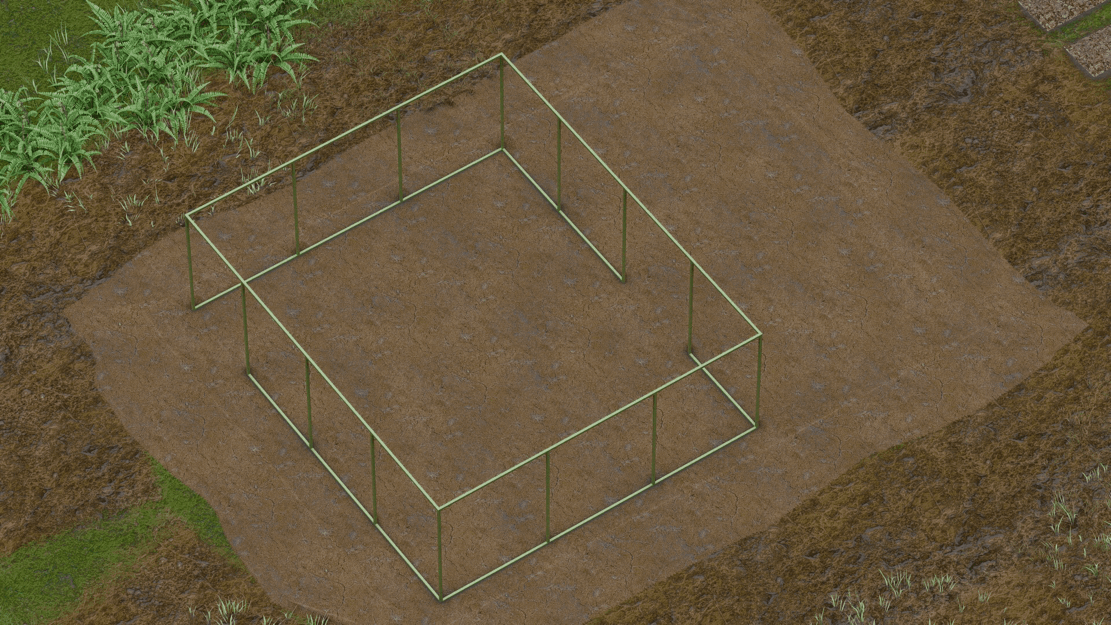 Trapezoidal shapes are the essence of Plastidobe houses

What's next for Plastidobe?
Now that Pircanato has a proof of concept, it's time to get the production going. The team is getting the first steel mold manufactured, and once it arrives, they can start working on the pilot modules. In the meantime, they keep themselves busy designing a factory located just outside Lima.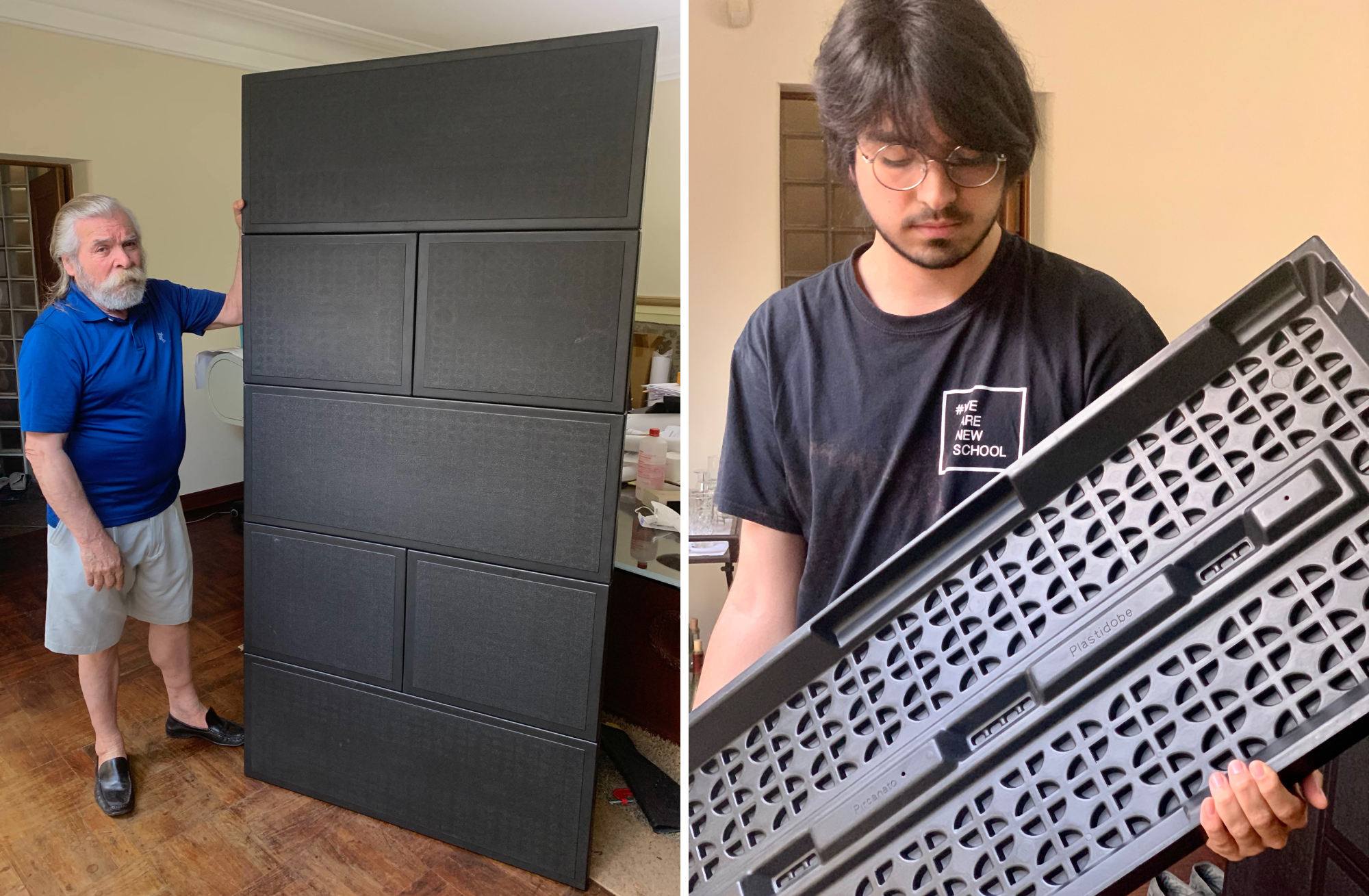 Willy (left) and Harry with the pilot Plastidobe prototype
As a next step, Harry and Willy are planning to get a bigger stock of Plastidobe houses ready for their clients. At the moment, it's mostly the national government and the local municipalities of Peru that need this technology to accelerate their housing aid to people in need. Due to the harsh weather conditions, homelessness in Peru equals death, which puts such initiatives at the top of the national agenda.
The private sector is also interested in Pircanato's exceptional housing concept. Building a house is expensive and takes time, but with Plastidobe, building a 40-m²-bungalow costs approximately $7,000 – and can be assembled in weeks. The concept could pave the way for other insulated structures that are key elements of rural areas. Willy and Harry are also working on insulated stables for farm animals that can prevent the deaths of hundreds of thousands of alpacas dying from frostbite every year. Similarly, greenhouses can help grow crops during the winter, and their so-called "garden wall" structures give a whole new meaning to productive spaces.


Greenhouses and insulated stables are important additions to rural housing


The Plastidobe "garden walls" make every inch of the space useful
As the Plastidobe project moves forward, and Harry and Willy are working hard to put an end to homelessness in Peru, we at Shapr3D are pleased to know that our mobile CAD software helps them speed up this remarkable mission.
Learn more about the Plastidobe project here.