Like many of you, we've been working from our home offices for the past weeks using Zoom and other apps to get together for business meetings and the slightly weird practice of having a 'Zoom happy hour' with friends. You've probably noticed a glitch or two - your co-worker's face freezing or the words garbled here and there (pro-tip: sometimes my co-workers just sit really still - be sure to know the difference!).
Even when it's 'business as usual' these delays take place, but in the COVID related era, bandwidth demands are even higher (I'm going to blame it on the happy hour sessions). Check out this graph tracking internet traffic in the US over the past four months: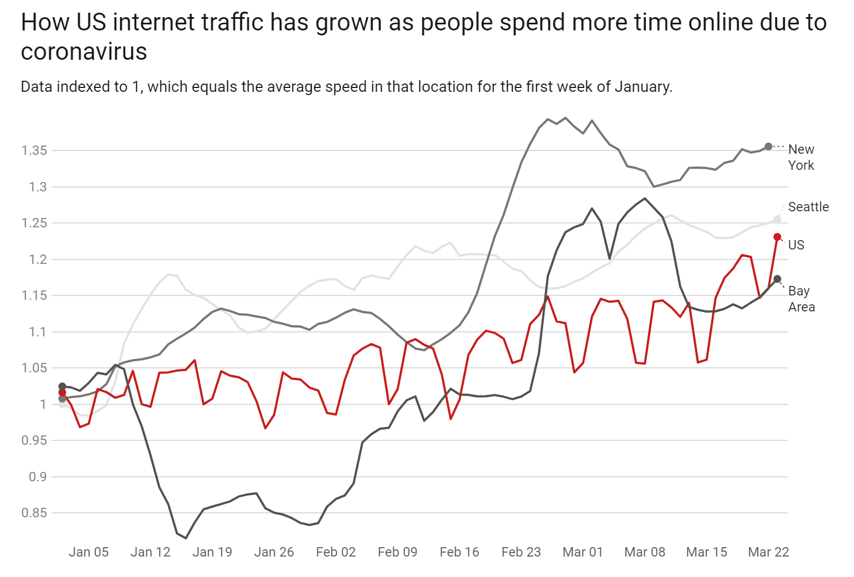 Companies designing manufactured products are no different - their teams are also working from home now, sitting on the patio to create their next iconic designs. Traditional CAD solution providers offer remote solutions in one of two ways:
Take a legacy product 'as-is' and host it on the cloud. Run it mostly unchanged on a 'virtual server'. This is basically akin to running CAD on a remote computer and waiting for your command to be transmitted and processed until a set of images can be transmitted back. Kind of like having your friend stream a Netflix movie, and point their smartphone at the TV to share it with you on Facetime. Good times!
Build something from the ground up that is designed for the cloud. Slightly better than watching Netflix movies second-hand, but still about as fast as the security lines at the Paris airport.
Just like I tell my kids when they do something wrong, Cloud CAD is not bad - it just sometimes does bad things. From a technology perspective, running CAD in the cloud is super exciting. It's a really hard problem to solve, which involves an incredibly complex tech stack that requires a dream team of experienced software developers to put together. But this doesn't really matter from the user's perspective. So let's see the pros and cons of running a legacy CAD system in the cloud.
Pros:
Design anywhere (except on the train, in your hammock, or anywhere else that doesn't have great internet connectivity)
Stay current with the latest software updates (which is not so much an exclusive Cloud CAD benefit. Native iPad apps provide the same benefit without requiring constant internet connection)
Cons:
Doesn't work without a network connection
Lags
Still requires a super-strong computer if you're rendering in the browser
So if you're getting paid by the hour and don't mind a coffee break every time your design updates, Cloud CAD may be for you. But if you really want to design on the go with limited or zero internet connection, then stick with a native and local CAD app.
Whether you're sailing around the world or designing that next iconic product poolside under palm trees, we've got you covered. Download the app for free on the App Store.