"Shapr3D has completely changed the way that I do 3D medical modeling. Being able to illustrate and alter my digital surgical plan during the surgery in the operating room is a real added value. Accuracy is key in healthcare, and with Shapr3D, I experienced powerful precision while maintaining an intuitive direct 3D modeling practice. The quick processing time lets me manipulate organic shapes very quickly."
Moath Abuaysha graduated with an engineering background from Western University in Canada, with a focus on digital surgical planning. He learned the basics of Autodesk Fusion 360, SOLIDWORKS, Siemens Nx, and Blender during his university courses, and followed up with intense training and professional certifications on his own time to perfect his skills to a point where they could be used in the medical field.
Now at one of the largest medical cities in Saudi Arabia, he tackles different ways to advance surgery outcomes using technologies like 3D printed models and surgical guides.
On the side, Moath and his two co-founders also founded a company to research advanced 3D printed medical applications, integrating sensors and electronics for smart surgical simulation. The team researches additional use cases with a materials lab, a bioprinting lab, and a prototyping lab.
Working with 3D printed surgical guides
In the operating room, the surgeons that Moath works with need to cut in an extremely precise manner to increase the likelihood of a successful procedure. Not only do they navigate between muscles and nerves, but in specific cases the procedure itself requires customized precision.
3D model and 3D printed prototype of a surgical guide
This is where 3D printed surgical guides come in.
Moath chose to focus on 3D printed guides first, because they are used on a regular basis and have the most impact. A surgeon can save up to 2 to 4 hours per surgery using a calibrated digitally planned and fabricated surgical guide.
Mandibular reconstruction with free fibula flap using surgical guidelines
In order to improve facial reconstruction surgeries, Moath developed a surgical guide for jaw mandibles cut from a patient's fibula. Usually these surgeries are done on patients who have a certain kind of tumor removed along their neck. After the tumor is resected, the mandible is covered with metal plates until it can be replaced with a reconstructed one.
This surgery is tricky as the jaw's two angles need to fit perfectly at two joints, like a picture frame. If one of the parts isn't attached well, it is less able to heal and grow, increasing the likelihood of a failed surgery.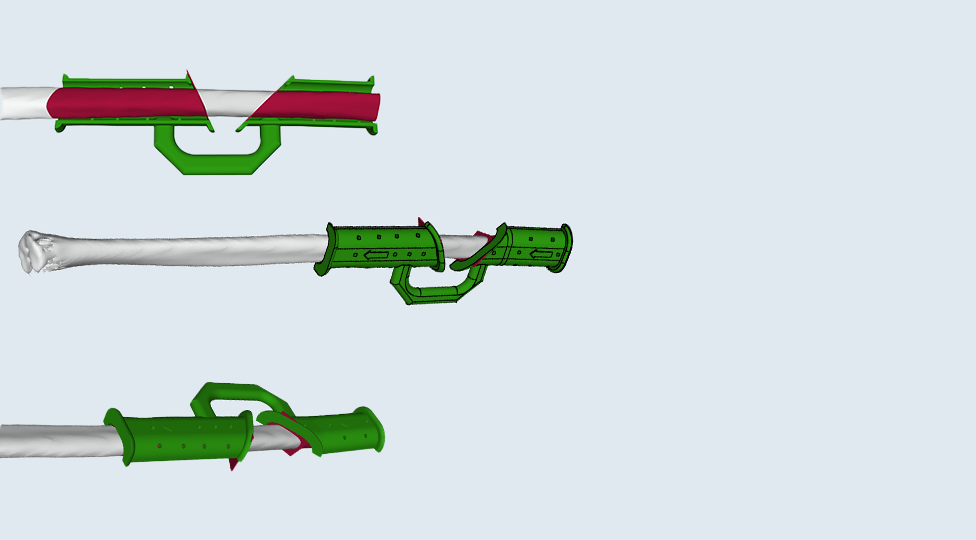 3D models of surgical guides
Usually there is little opportunity for pre-planning. Surgeons work with rulers to piece the new jaw together based on visual observation and practice. The surgery itself usually takes 5-6 hours, and in a few weeks the team understands whether they've been successful or not.
Creating customized surgical guidelines
Moath begins with the CT scans, MRIs, and biomedical images he receives from the hospital. He can reconstruct everything digitally to define the exact place that cuts need to be made for a mandible that fits the patient precisely.
"I'm interested in this field because I see crazy potential, not great -- crazy. Medical malpractice is the third cause of death, and with these surgical guides, these tools, we can fix that. Beyond surgical guides, 3D printing in the medical field allows us to make smart implants that increase the overall quality of life of a patient. Traditional manufacturing methods provide a solution, but don't raise the quality of life."
He requests biomedical images for his work, usually a CT scan and a CT angiogram to see both the bones and the blood vessels connected to them. Then he slices the scans and turns them into a 3D model using segmentation software called D2P. After the segmentation process is done, he simulates the surgery in Geomagic Freeform, cutting the parts he created and moving them to their places. At times he'll use Meshmixer or Autodesk fusion 360.
For slicing, he uses 3D Slicer or D2P, depending on whether he's creating a model for research or actual use – D2P is approved by the FDA with 510(k) clearance. After he takes the segmented models and simulates the surgery, it's time to cut the prototype bone pieces digitally
The fine-tuned cut bone is moved to Shapr3D to create the actual surgical guide. Moath imports the bone models, sets them to a 1:1 ratio, and begins sketching the surgical guides on top of the bone.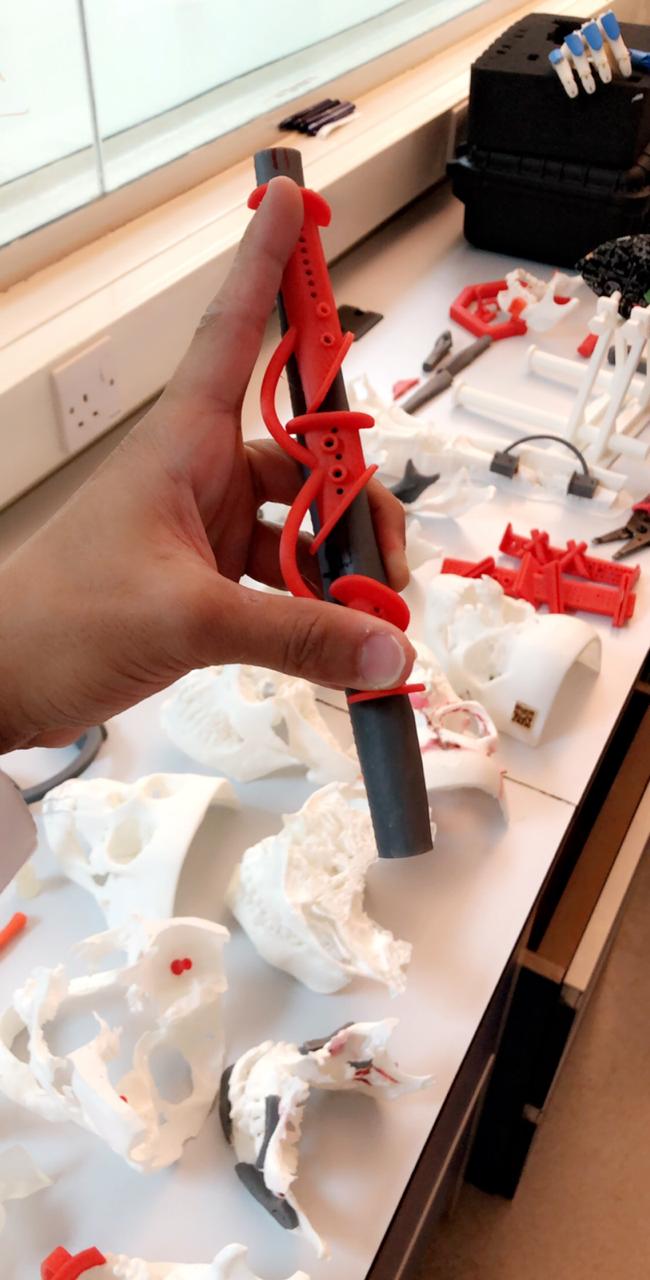 The first draft of the guide is 3D printed and practice cuts are made to see that they match with the earlier digital plan. Once the design is perfect, the guide is handed over to a surgeon to practice the cuts before performing the final surgery.
To create the guides, Moath works with two styles of printing, SLS and FDM, depending on the scenario. He works with a patented bio-compatible filament by Copper 3D. The whole process takes about three days from slicing to final product.
3D modeling in hospital environments
Moath loves using Shapr3D in medical institutions, where the physical nature of the work doesn't leave much room for deskwork. He's able to carry his models with him into the OR, manipulating them easily with his hands, even while the surgeon is operating.
"I need to show surgeons exactly where the bone goes and how to place it, and Shapr3D helps me visualize that on the spot. I also travel at least three times a week, and enjoy not having to bring a heavy laptop around with me while I work at a cafe or on a train or airplane, and without having to pull out a mouse. Instead of waiting to get back to the lab I can get a lot more done. Once I've finished my work in Shapr3D, I can easily export it to the other software I work with, which is a key feature."
Future projects
Moath has already planned a variety of other projects in Shapr3D, including an antibacterial, antiviral device that lets you press buttons and open doors without contact. He is also working on a small device that securely holds BVM bags in place in the ambulance to free up EMS responders who would otherwise have to manually secure the bag.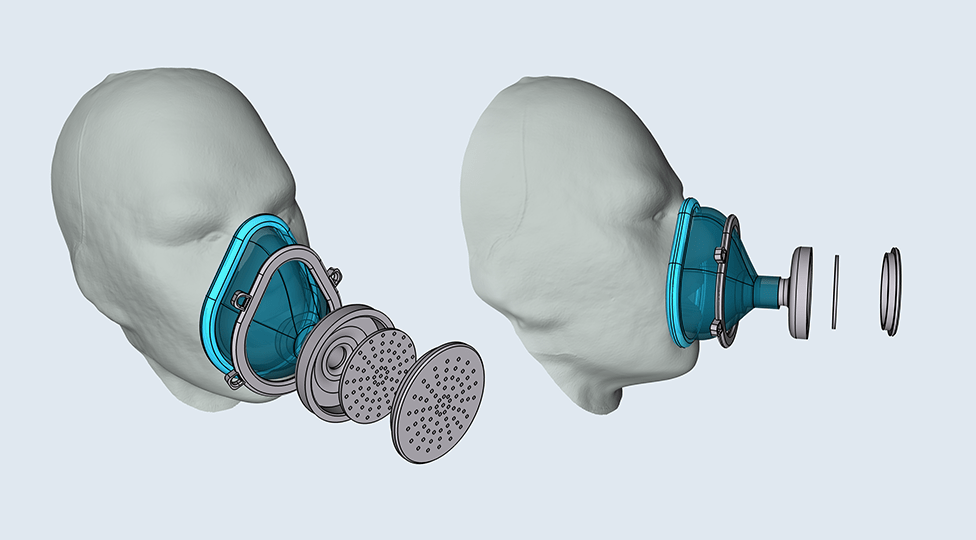 Device to secure BVM bags on patients without assistance
Learn more about Moath's work at Voxelplus on his twitter @Moath_Abuaysha.